The impact of adjunctive tomosynthesis on screening mammography outcomes
Click here to watch Dr. Amy Patel's featured interview with Digital Imaging about the use and performance of digital breast tomosynthesis in both academic and community settings.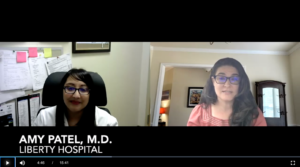 It's important that when looking at new technology, particularly when it comes to digital breast tomosynthesis and the implications for use, many of us are believers that it's a superior technology and how do we have health insurance help to cover that. 
In a study from 2015-2016 over 54k patients were analyzed in two independent breast imaging practices. Read about the study here. The study demonstrated that 3D mammography increased breast cancer detection rates in comparison to 2D mammography alone. Dr. Patel also explains that having both diversity of practice type and diversity of the type of Radiologist was very important to seek in this study. 
Author
Diagnostic Imaging's Weekly Scan. Senior editor Whitney Palmer.
About Dr. Amy
Amy Patel, MD | Breast Radiologist, Alliance Radiology | Medical Director, Liberty Hospital Women's Imaging | Associate Professor of Radiology, University of Missouri-Kansas City School of Medicine